Top U.S. intelligence officials said Tuesday that ISIS was likely to attempt direct attacks on the U.S. in the coming year and that the group was infiltrating refugees escaping from Iraq and Syria to move across borders.
The U.S. has already found terrorists in some of the refugees crossing through the Mexican borders and Canada as well.
ISIS  "will probably attempt to conduct additional attacks in Europe, and attempt to direct attacks on the U.S. homeland in 2016," said Lt. Gen. Vincent Stewart, director of the Defense Intelligence Agency.
James Clapper, the Directer of National Intelligence stated ISIS and its eight branches were the No. 1 terrorist threat, and that it was using the refugee exodus from violence in Iraq and Syria to hide among innocent civilians in order to reach other countries.
Clapper said ISIS was "taking advantage of the torrent of migrants to insert operatives into that flow," adding that they were "pretty skilled at phony passports so they can travel ostensibly as legitimate travelers."
ISIS fighters have reportedly seized Syrian passport facilities and used equipment capable of manufacturing passports. The testimony follows the director of National Intelligence's release of the "Worldwide Threat Assessment of the U.S. Intelligence Community." The assessment notes that "approximately five dozen" ISIS-linked people were already arrested in the U.S. during 2015.
An Ohio man was recently arrested in a plot against a US military member.  How many more 'invisible' terrorists are out there ready to kill US public servants?  Why haven't we seen more arrests here when we know that the FBI has at least 1000 ongoing 'probes'?
The following Map shows U.S. cities and towns on the "ISIS Kill List" as the terrorists "Master Plan" to over throw the West is exposed.  Social media is ISIS's command and control center.  Be on guard 24/7 for any suspicious or unusual activity or people, and report it to local authorities immediately.  We must look out for one another's safety in these uncertain times.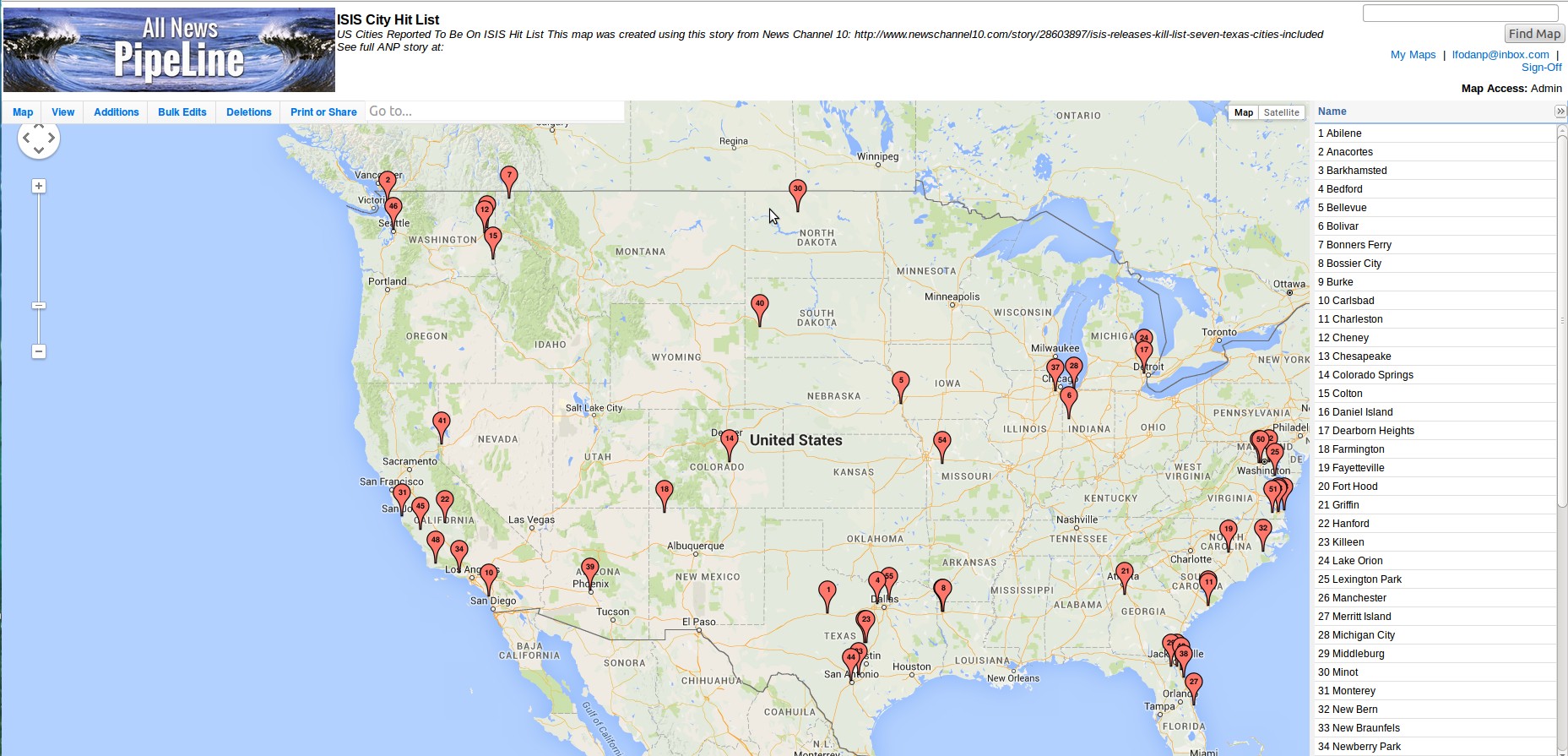 Texas: Abilene, New Braunfels, San Antonio, Wyle, Fort Hood, Bedford, Killeen

Indiana: Michigan City, Bolivar

Michigan: Dearborn Heights, Lake OrionConnecticut: Barkhamsted, Manchester

Nevada: Reno

Georgia: Griffin

Maryland: Upper Marlboro, Warrensburg, Lexington Park

Arizona: Phoenix

Louisiana: Shreveport, Bossier City

South Carolina: Daniel Island, Charleston

North Carolina: Fayetteville, New Bern

Virginia: Burke, Virginia Beach, Suffolk, Springfield, Norfolk, Chesapeake

Colorado: Colorado Springs

California: Hanford, Solvang, San Ardo, Monterrey, Newberry Park, Carlsbad

New Mexico: Farmington

North Dakota: Minot

South Dakota: Rapid City

Florida: Merritt Island, Palm Coast, Saint John, Middleburg, Saint Augustine

Washington: Colton, Cheney, Seattle, Spokane, Anacortes

Nebraska: Bellevue

Illinois: Orland Park

Rhode Island: Newport

Idaho: Bonners Ferry
https://youtu.be/Dkgc0VDsLF8