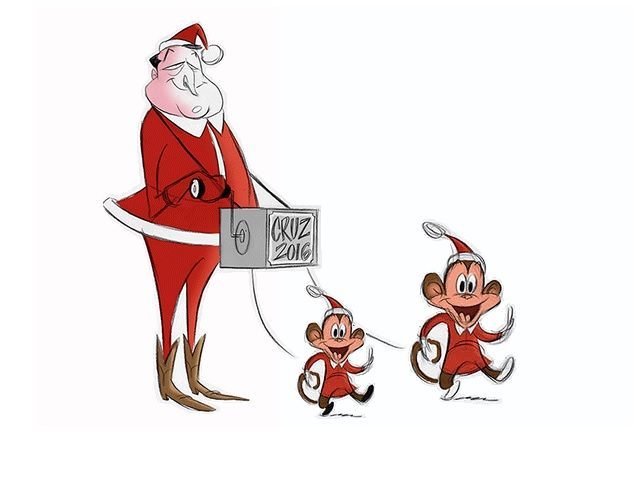 Could you imagine if a Conservative news source portrayed Obama's daughters as Monkeys?!! It would be an outrage and liberals would lose their minds, but it's fair game when it comes to a conservative's family and it's disgusting.
Washington Post cartoonist, the Pulitzer Prize-winner Ann Telnaes, published a Christmas-themed cartoon where the senator's 5 and 7 year-old daughters are portrayed as monkeys on a leash. Classy right? Meanwhile, Cruz himself is portrayed wearing a Santa Claus suit holding a crank music box to which the girls' leashes are attached. Cruz's wife and the girls' mother, Heidi, is not in the cartoon. Telnaes claims that Ted Cruz uses his children as "political props" because he recently aired an ad that shows him reading to his children.
Ted Cruz uses his kids as political props https://t.co/gKT8Jhjm17pic.twitter.com/GNfoP4batF

— Ann Telnaes (@AnnTelnaes) December 22, 2015
Telnaes attempted to defend herself writing, "There is an unspoken rule in editorial cartooning that a politician's children are off-limits," Telnaes admits. "People don't get to choose their family members so obviously it's unfair to ridicule kids for their parent's behavior while in office or on the campaign trail- besides, they're children. There are plenty of adults in the political world who act childish, so there is no need for an editorial cartoonist to target actual children."
I've kept to that rule, except when the children are adults themselves or  choose to indulge in grown-up activities (as the Bush twins did during the George W Bush presidency)," Telnaes wrote. "But when a politician uses his children as political props, as Ted Cruz recently did in his Christmas parody video in which his eldest daughter read (with her father's dramatic flourish) a passage of an edited Christmas classic, then I figure they are fair game."
Cruz handled her repulsive behavior much better than a lot of parents would have. He responded with a tweet that simply read:
Classy. Washington Post makes fun of my girls. Stick with attacking me-Caroline and Catherine are out of your league.
He couldn't have come up with a better jab if he tried. That comeback not only made Ann Telnaes look like the scum that she is, it also made Cruz seem dignified and Presidential. Hats off to you Senator for being above trash like her!
H/T Breitbart